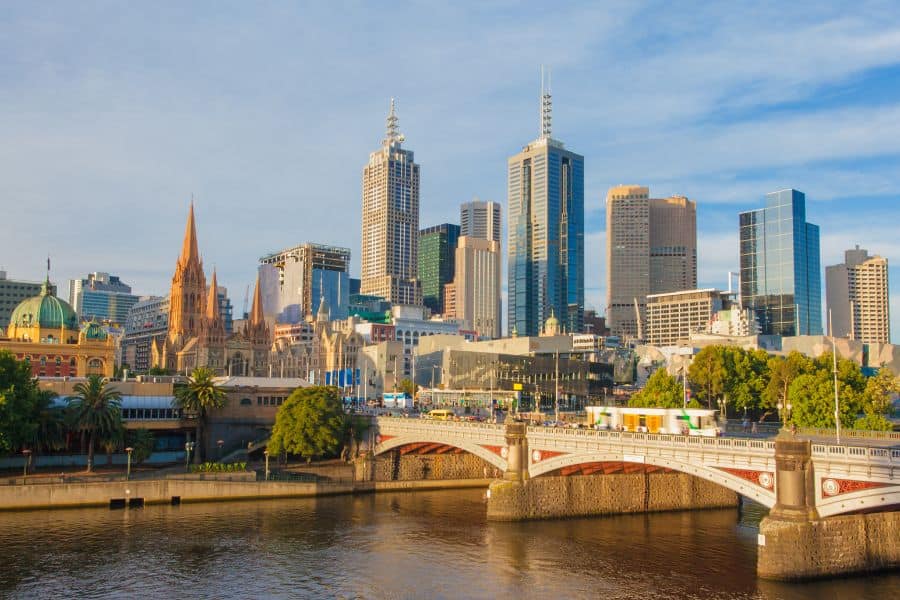 Melbourne sits on the shores of Port Phillip Bay and is home to around 5 million people, making it Australia's second largest city behind Sydney.
The capital city of Melbourne located on shore of Port Philip Bay and is divided into a North and South section by the Yarra River. Melbourne is a buzzing metropolis with a distinctly multicultural flavour and a vibrant arts and cultural scene. The city centre is intertwined with a maze of narrow laneways brimming with intimate cafes (Melbourne is also famous for good coffee), bars and boutique stores.
Within the city center, you'll find the Federation Square, opposite the historic Flinders Street Station. This multipurpose structure was built during the late 1990's as a hub for cultural activity in the city. Here you'll find galleries, shops, live entertainment and restaurants, which serve hundreds daily. The nearby Arts Centre, National Gallery of Victoria and Melbourne Theatre Company also contribute to the artistic atmosphere of the city centre.
Melbourne is often referred to as the 'Sports Capital of the World', with numerous international events taking place here annually. House Sitting positions in and around Melbourne are amble, and you'll also have many free time activities to choose from.
Around Melbourne
Dandenong Range
The Dandenong Range is less than an hour from Melbourne. The natural world here is gloriously diverse, from stands of mountain ash up to 100 metres high, to the exotic blooms at Olinda's National Rhododendron Gardens. The Dandenong Ranges are home to spectacular wildlife, including king parrots, lyrebirds and lead beater's possums. You can explore on foot more than 300 kilometres of walking trails that loop through ferny gullies and past waterfalls to delightful picnic spots.
Daylesford & Hepburn Springs
Daylesford and Hepburn Springs are twin towns in the northwest of Melbourne. Impressive mansions, striking landscapes and some of Victoria's finest gardens combine to create the old world ambiance of the nearby Macedon Ranges. Rugged hills and thick stands of unspoiled bush provide striking contrast to stunning parks and glorious manicured gardens and historic houses, many of which are regularly open to the public.
Mornington Peninsula
Arcing gracefully around the eastern rim of Port Phillip Bay and close to the city, the Mornington Peninsula is a holiday spot favoured by Melbournians. With a mighty ocean to the south and protected bays on either side, the Mornington Peninsula is home to wine, golf courses with ocean views, great beaches and Victoria's most popular national park.
Phillip Island
Phillip Island is an island two hours in the southeast of Melbourne; here you can see little penguins, seals and koalas up close. There is a rugged coastal scenery as well as historic buildings, heritage gardens and ancient trees on adjacent Churchill Island. You can also find some of the best surf beaches in Victoria and explore the more than 100 species of birds that reside at Rhyll Inlet.
Yarra Valley
Yarra Valley is in the northeast of Melbourne and popular for its world class wineries. Chardonnay, pinot noir, cabernet, sauvignon and methode champenoise sparkling wine are popular for the region. You can tour the region by car, take the skies to view vine-filled valleys and distant hills in a hot-air balloon, or meet the native fauna at the Healesville Wildlife Sanctuary.
Geelong
Geelong is half an hour in the southwest of Melbourne and is Victoria's wool centre. The city is home of the football team "Geelong Cats" and the Ford Car factory. The city has plenty of historic buildings, and some views of the industrial port. If you have ime on your hands, why not visit the "Wool Museum", the Art Gallery, the Waterfront, the "Ford Discovery Centre" and the Botanic Gardens.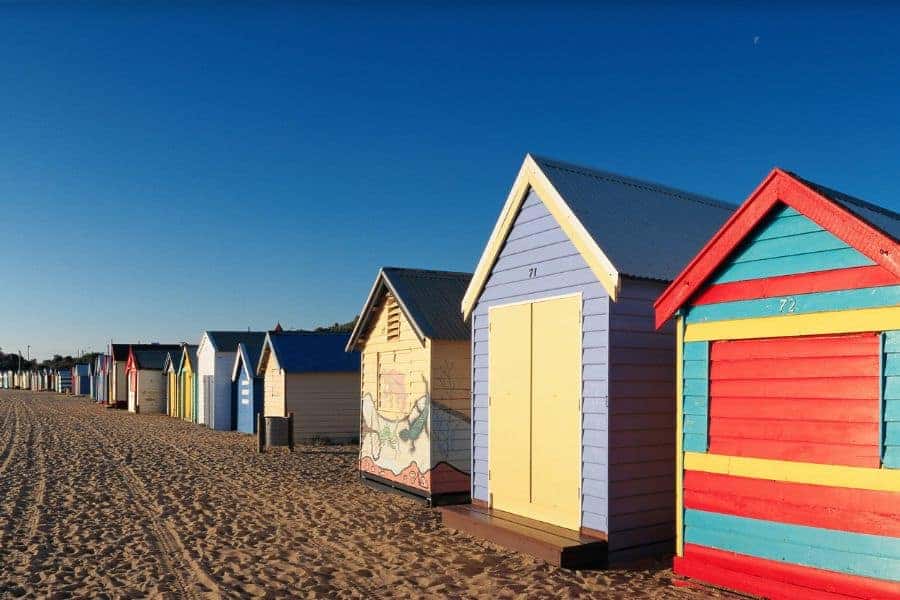 House Sitting & Pet Sitting in Melbourne
If you're an animal lover and looking for an opportunity to experience one of the most iconic cities in Australia, then house and pet sitting in Melbourne might be just the thing for you. Melbourne is home to many pets across its various suburbs, and they're all looking for someone to keep them company while their owners are away. With OZ House Sitters, you can find free accommodation in Melbourne and spend time with adorable animals that are awaiting your arrival.
There are plenty of things to do and see in Melbourne when you're house and pet sitting. Here are some of the highlights:
Brighton Beach
If you're dog sitting in Melbourne, make sure you take a trip to the bayside suburb of Brighton. The beach is famous for its colorful bathing boxes that line the shore. You can take your furry friend for an early morning walk on the beach when pets are allowed. From April to October, dogs can roam around the beach off-leash all day. You can also enjoy swimming in the calm waters or kayaking in the afternoons while watching the beautiful skyline during sunset.
St Kilda
If you're looking for a pet sitting job in Melbourne, be sure to visit St Kilda Beach, which is just a few kilometers from the city center. The beach area permits dogs to be off-leash at specific times of the day. The western side of St Kilda Beach near Pier Road allows pets to play off-leash all year round. Apart from swimming, you can also take a stroll along the pier near Luna Park with your furry friend on a leash.
Royal Botanic Gardens Victoria
The Royal Botanic Gardens is a must-visit green space at the heart of the city if you're pet sitting in Melbourne. You can take a walk with your furry friends, breathe in the fresh air, and take in the spectacular scenery. The garden covers over 38 hectares and has exotic vegetation and landscaped lawns. While dogs aren't allowed off-leash, you can walk around and marvel at the plant species. Guilfoyle's Volcano, a historic water reservoir, is worth checking out. Alternatively, you can join the Aboriginal Heritage walk to learn about the history of the garden and the significance of Aboriginal culture in Australia.
Hosier Lane
No Melbourne dog sitting adventure is complete without taking a stroll through the city and enjoying the beautiful street art. Hosier Lane, located opposite Federation Square, is famous for its sophisticated urban art. The graffiti illustrates political and social issues through vibrant art. Snap a few photos with your pet friends as you walk along the street. Other street art areas to check out in Melbourne are Rutledge Lane, Caledonian Lane, and Union Lane.
Caulfield Park
Don't forget to enjoy a picnic on your Melbourne pet sitting trip. The large Caulfield Park provides green space to bond with nature, and you can jog or relax in the field while your furry friends have fun in the fenced off-leash areas.
Applying for a House Sitting Job in Melbourne
Getting started is simple. Just head over to our membership page. You will then be directed to registration and the membership fee payment page (we often run promotions as well, so you may score yourself free membership, or a discounted membership!). You will see a notice to activate your account once you have logged in. It's important that you do this as this will activate your membership. Once that's done you can go ahead and create your house sitter profile.
What is expected of me as a House Sitter?
As a house sitter, you will be expected to perform agreed tasks that involve caring for a home owners property and pets. This includes taking care of all the usual daily tasks involved with running and maintaining a home such as house cleaning, garden maintenance, pool maintenance, general house security, forwarding or collecting mail, caring for pets and the occasional odd job. House sitters are expected to bring their own food and some may prefer to bring their own linen and cooking utensils. All this needs to be discussed prior to acceptance of the house sitting position.
Do I need references and experience in House Sitting?
References are a major advantage and are therefore we say it's a must for all house sitters. Obviously the best type of reference would be from someone you have house sat for, however even a character reference/s from people that have known you for a reasonable amount of time are acceptable. These may include your landlord (if you have rented in the past), your employer, friends or people you know with an advanced standing in the community. Your reference/s can be written and or verbal, with the referrer agreeing that you can provide their phone number to home owners.
How do I find a good house sitting job in Melbourne?
Patience is the key!
Write up your profile carefully!
When setting up your profile, make owners feel like they'd like to get to know you. Give details and describe who you are, your experiences (including pet care) what you do for a living e.g.
Make sure to upload nice clear photos that catch home owners attention.
If responding to a house sitting position, explain what you like about the home owner's proposal and why you'd be the right person. Don't hesitate to provide a link to some references and other relevant documents (such as a police check) uploaded to a third party such as eg.Dropbox, OneDrive, CloudMe.
Request a FREE account verification
Requesting a free account verification will display a tick on your profile, and helps establish more trust between you and the home owner. To find out more about the free account verification, please visit the FAQ's and scroll down to the section labelled "FREE ID Verification".
Check your emails for our daily house sitting alerts and follow our social media sites!
About OZ House Sitters

FREE for owners
Home owners can and always will have access to our site for FREE! Plus, save money on boarding fees

Perfect for pets
House Sitters can provide high quality care for pets in their own home. Happy pets = happy owners!

Secure
Contact home owners and house sitters in Melbourne through our secure internal messaging system.
Apply for House Sitting Jobs in Melbourne
Being a House Sitter offers a world of opportunity, not only to save money on rent, but also to get to know other people and new places.
House Sitters get the opportunity to travel cost effectively, see and experience communities and regions of Melbourne and Victoria. This leads to vast opportunities, both personally and professionally.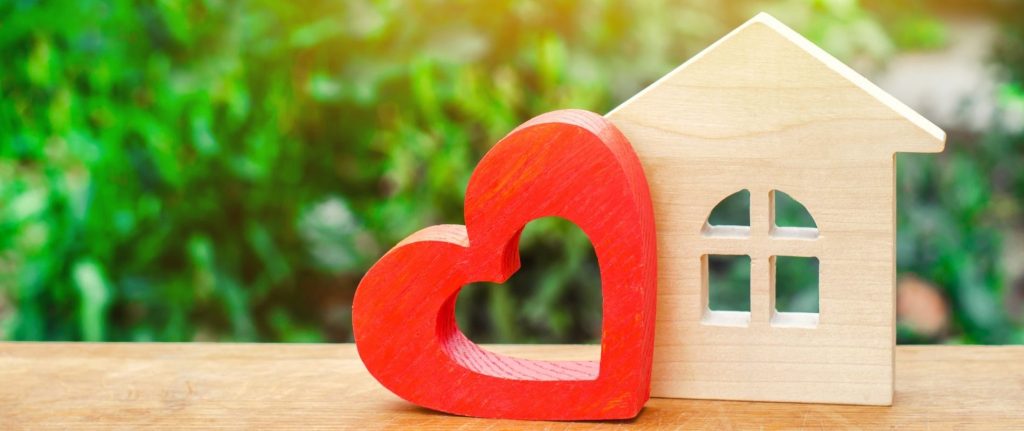 Search and contact house sitters in Melbourne
Home Owners, have peace of mind knowing that their home and pets are in safe hands and are getting the love they deserve. In exchange, house sitters get to live rent free and save thousands.
Have peace of mind whilst you're away, knowing that your home and pets are being looked after. On OZ House Sitters you can find that someone.